I've been in the customer service agent game all of my life and in all of that time, nothing has changed. Technology evolves, concepts come and go and the only constant throughout the years is the people.
Buzz words mean nothing
Stop trying to delight your customers and start delighting your agents. New buzz words come every year to try and sell you new technologies, some are actually useful but focusing on concepts rather than your people breeds poor customer service.
New technology is only as good as your customer service agent
New technology can be amazing, life changing in fact but they are only as good as your implementation of them and as good as the people using the system. New technologies won't teach an agent to have an empathetic phone conversation with an irate customer, or create a useful knowledge base article, or create great notes.
Nurture and grow your team
Customer service is a difficult job and customer service agents learn skills that are applicable in many areas of your business that is not easily learned.  Use customer service as a career launching pad into everything from Sales, product development to marketing.  Customer service representatives have a unique ability to understand customers, have a deep understanding of your business, are problem solvers, and are able to communicate clearly ideas.  All of these skills are a huge asset to any part of your business so take advantage of their skill set and develop a plan to transition them to the next step.
Listen to your front line and take action on their feedback
No one knows your business better than you customer service agents.  They hear the good, the bad, what's wrong with marketing, sales, and know where your product or service should go.  Customer service agents are your direct link to the customer and as such, you should have a feedback mechanism in place for all of these areas of your business and action on them.  
Keep everyone in the loop
Listening to your customer service staff is great, but just like customers, any feedback you gather needs to be followed up on.  Feedback that appears to be going into a black hole is frustrating and causes your feedback to dry up.  Make sure you gather feedback and keep your agents informed on any progress.   Keep your agents in the loop to new technologies, new decisions, have open discussions with your teams and make sure the environment is open and friendly.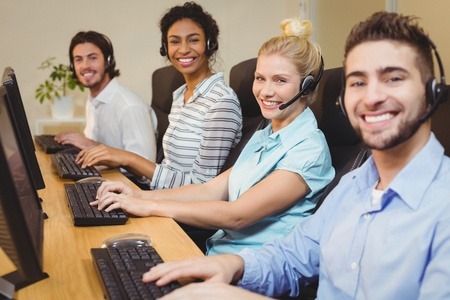 Pay them what they are worth
There are few companies that truly pay customer service agents what they are actually worth.  Customer service and support is essential to any business, just look at what they do:
– They are your direct link to your customer
– They resolve customer issues and complaints
– They develop customer relationships for your business
– They find and raise any red flags for your business
– They are responsible for keeping your customers
– Their whole world is to make your customer happy


With all of these responsibilities, customer service is still seen as a cost center to most companies. It is 6-8 times cheaper to keep your existing customers than finding new ones, so make sure you fund customer service, and pay your agents appropriately.