Excellent customer service is defined as service that treats customers with a friendly attitude and tries to resolve their problems or question as efficiently as possible. – Reference.com
I argue that the standard definition is insufficient.
"3 in 5 Americans (59%) would try a new brand or company for a better service experience."
American Express Survey, 2011
Delivering the level of expectations where you just met the customer's expectations does not make them excited about you.
Expectations met = Neutral / Merely satisfied
Expectations no met = Dissatisfied
Expectations exceeded = Amazed / Delighted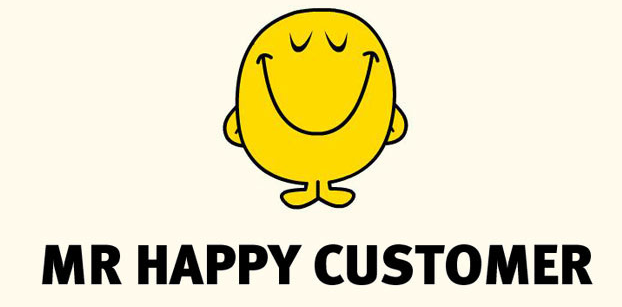 Imagine the following happening to you.
Your credit card bill includes a charge that you did not make. You call into the bank, go through a long phone system and finally get someone on the phone. They gather your information and take off the charge you didn't make and your done. Expectations met, perfect.
Now imagine this scenario.
Your credit card bill includes a charge that you did not make. You call the bank on a direct number to the "fraud department" and get someone within a minute of calling without any prompts in the phone system. They gather your information and take your charge off the system.  For your trouble, the credit card company apologizes and gives you a small $5 credit on your card.  You hang up feeling really good.  The next day you get both an email and a phone call asking you how everything went and wishing you a great day with reassurance that the charge is now gone and they will continue to do everything they can to make sure this does not happen again.
What just happened
It's a small but significant tweak. Just fulfilling your obligations to a minimum degree is never enough. The only reason we might be tempted to give them high marks is that you have never had a different experience. As a result, their expectations are at rock bottom, and are just thrilled that your expectations were met.
The definition of excellent customer service
Excellent customer service is when you go above and beyond the obligatory expectations and deliver an experience to the customer that will make them talk about you tomorrow, share their experience next week, and promote you to others all year. It is the best way to retain customers, build relationships and keep competitors away from your valued customers.