Salesforce is the largest and most popular customer relationship management software. While some companies only recognize a few advantages of implementing customer relationship management software, other companies recognize a substantial operation through the implementation of the program.
A large number of national companies have begun to utilize Salesforce to improve customer relationships. While the graph below lists just some of the successful companies that rely on Salesforce to create a strong customer service experience, each of these companies is considered an industry leader both in terms of sales numbers as well as for the level of top quality services that they provide consumers.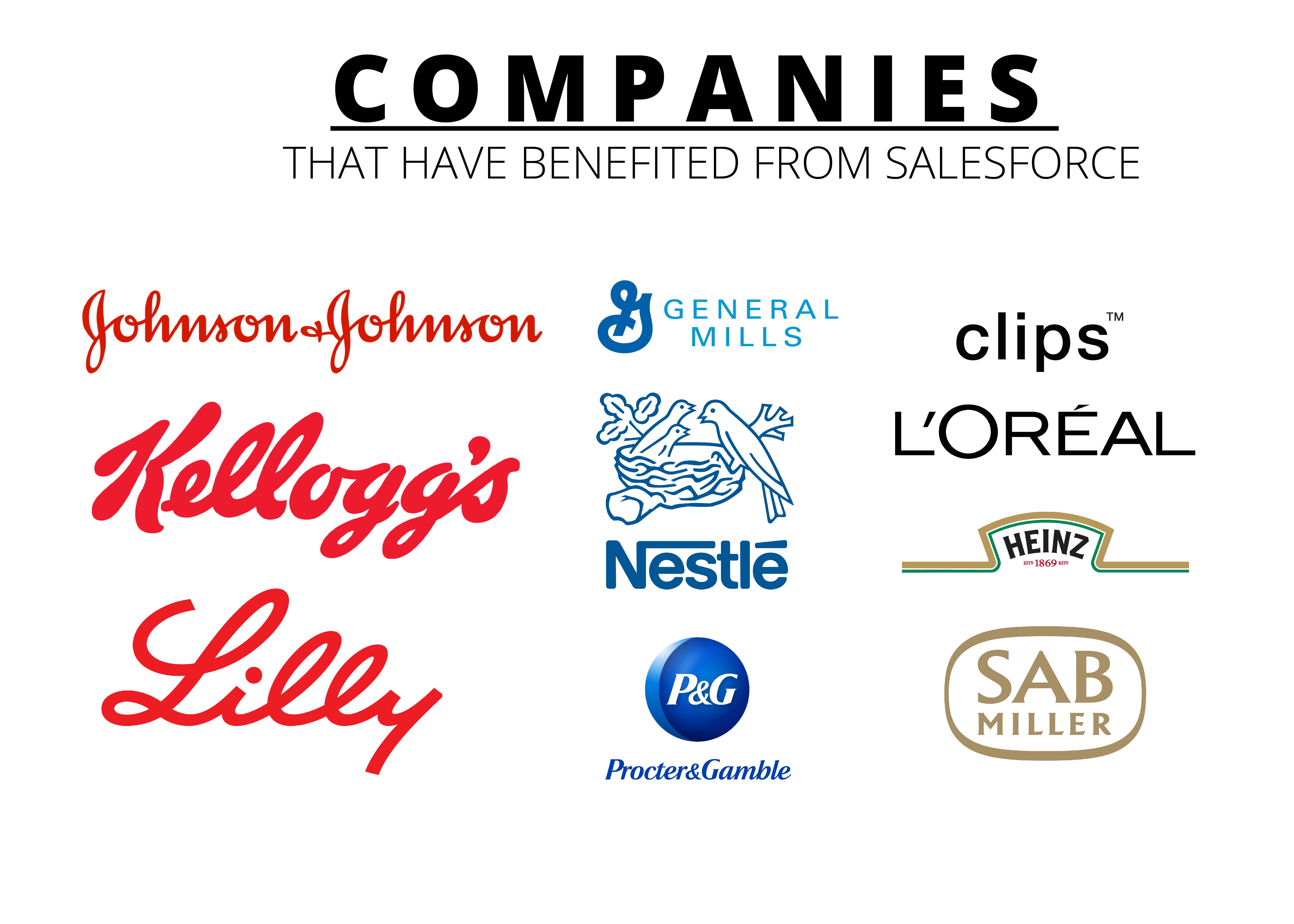 Not only are each of these companies very successful, they represent a wide array of industries and business models. This is not a coincidence because the easy access of Salesforce makes it accessible to a large number of companies in a variety of industries.
These companies and many others have discovered that there are numerous advantages to be experienced by integrating salesforce into their customer service department. One of the largest advantages to Salesforce is that the program helps companies to ensure that many consumers have a positive experience so that the company can focus on other priorities associated with delivering strong customer service. As the graph below explicates, there are three primary advantages to the use of Salesforce: better collaboration between departments, better understanding of what customers prefer due to increased data, and better collaboration.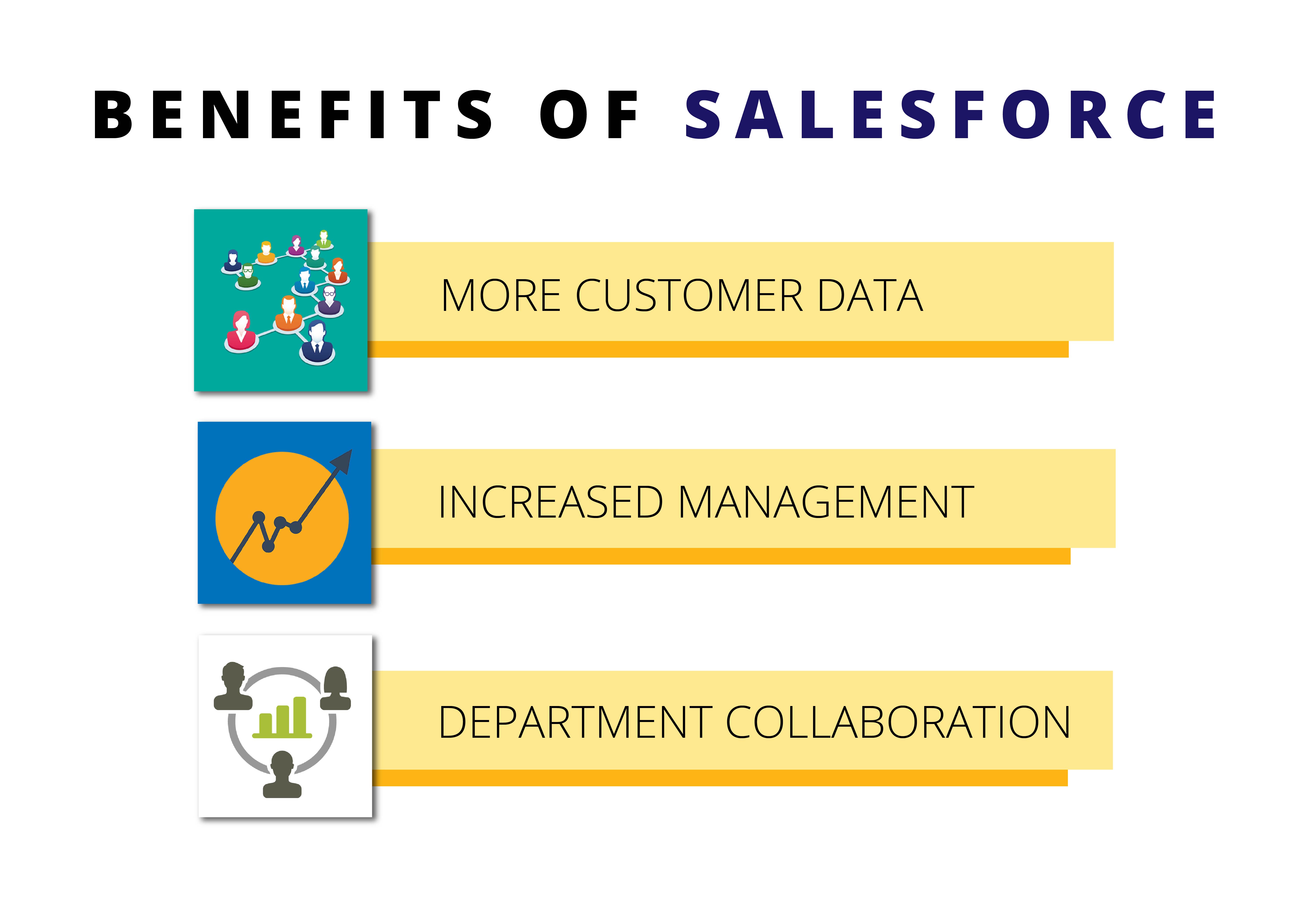 This article will examine some of the advantages that companies experience through the implementation of Salesforce and how Salesforce helps companies create a seamless experience.
Benefit # 1 – Ease of Use
There are many customer relationship management programs available, but Salesforce offers services that can easily be used by a variety of companies and industries. Salesforce is recognized for being a very easy to use platform. While some customer relationship management programs require users to learn coding, Salesforce is readily understandable by a large number of users.
The comprehensive and efficient nature of Salesforce results in substantial time management. The ability to better manage time with Salesforce allows a large number of companies to increase their ability to provide to levels of service. The accessibility of Salesforce also offers more adaptability for companies. As the graph below explains, Salesforce when properly implemented becomes a part of how companies sell products but the program does not limit the channels through which a company is able to market its services.
No matter whether a company is using Google, Facebook, Amazon, or any other types of sales based program, Salesforce is a flexible services that lets companies better cater their services to employees. By being able to provide better services to a larger range of services, companies are ultimately able to better satisfy the demands of consumers. Because Salesforce is capable of being used by a variety of companies in many different industries due to its ease of use, Salesforce is an excellent starting point in companies that are interested in creating seamlessness during the consumer experience.
Benefit # 2 – Increased Functionality
Customer relationship management software allows companies to combine details from multiple departments as well as review a wide array of details. Salesforce also permits companies to examine specific details that are connected to a specific lead and even provides companies with numerous details before approaching a consumer. These details are very important to companies for several reasons and have resulted in Salesforce being the leading customer relationship management as suggested by the following chart. Among the many signs of the rapid expansion of Salesforce is that the company won Enterprise CRM Award from 2009 to 2014. Salesforce also holds over 15% of the customer relationship management software market.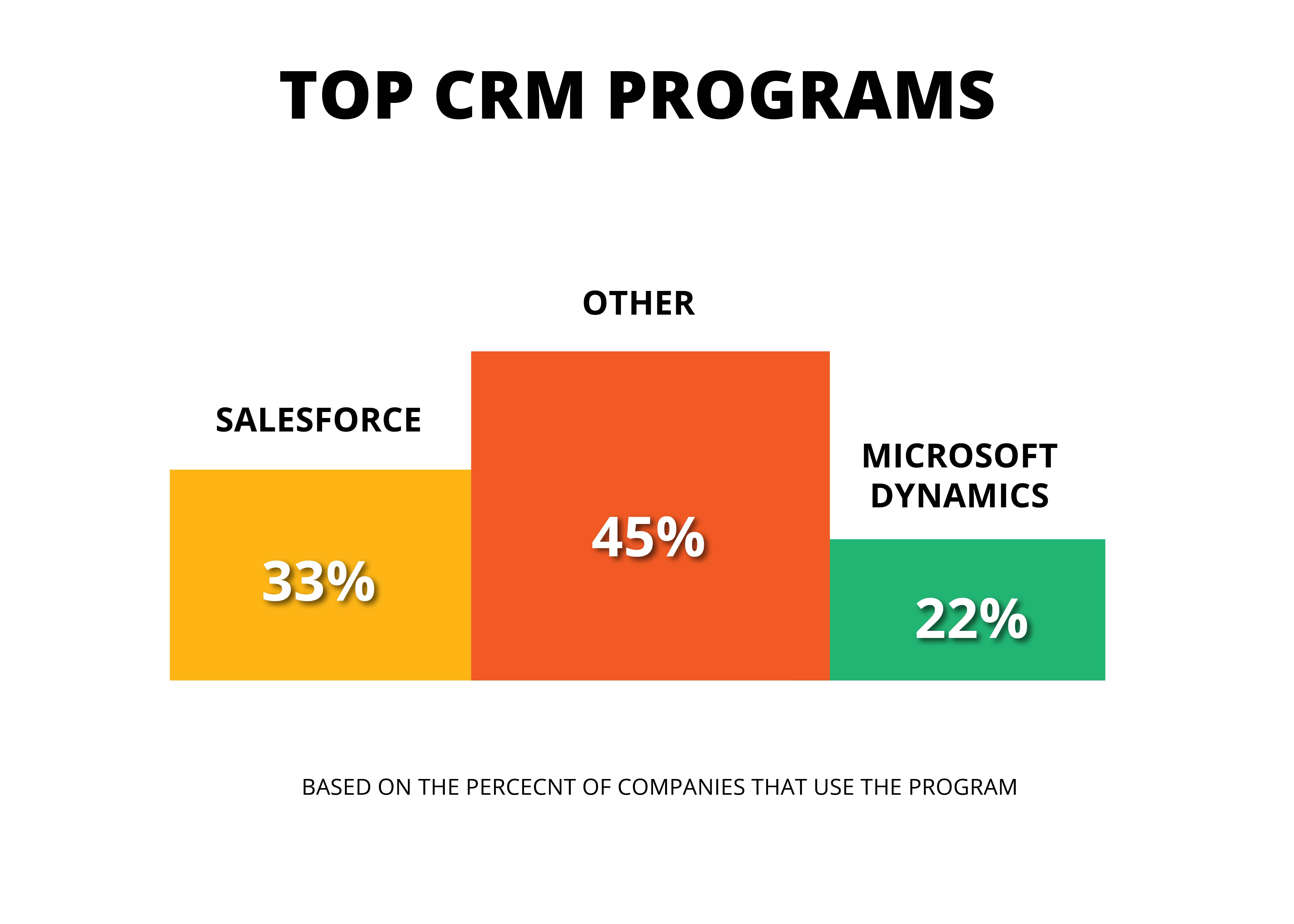 There are several reasons why Salesforce has become a leading program. Salesforce offers assistance with customer relationship management software. The graph below highlights the four ways in which Salesforce helps companies who use the program.
While each of these elements in Salesforce is particularly, one of the strongest elements in the program are the amount of production and support training that the program offers. Salesforce lets companies keep customer profiles organized, which provides a much easier for management to understand a customer's life and then deliver details that satisfy that person's needs.
This significant number of details also helps individual employees within a company to obtain details about a consumer in case one employee is not present. Additionally, Salesforce helps companies to make sure that important consumers details are neither compromised nor lost due to security invasions.
These elements of Salesforce help companies provide focused and detailed support when interacting with consumers. Being able to focus on the smallest details involved in a consumer exchange helps companies to make sure that even the minutia that is associated with a transaction proceeds smoothly.
Benefit # 3 – Customization
Salesforce can be customized for use by a variety of companies. Many companies have discovered that Salesforce works for numerous business models and can provide detailed reports that specified to the company's needs. Due to these details, companies are able to create a fully automated system that can function on its own. There are a number of ways in which companies are able to customize their services to match the company's business model. The chart below includes some of these elements.
Being able to customize many features is not the only the accessible aspect of Salesforce. The program also allows employees of a company to access the program at any time to provide services. The result of these numerous customization feature is that companies are able to provide quality service to a number of employees.  These critical details can be access by customers in a variety of ways which significantly helps companies track important issues in a variety of settings. The graph below shows just some of the devices on which Salesforce can be access, but there are many other types of program that permit the use of Salesforce too.
This increased functionality helps workers across a variety of technological tools to analyze the same details and combine different knowledge bases to obtain a complicated understanding of what consumers desire.
The diverse manner of ways in which Salesforce can be used tackles one of the largest obstacles faced by companies in achieving a seamless consumer experience. This challenging obstacle is that not every customer experience is the same, which means that for all consumers to have a seamless experience on a variety of digital forms, companies must take a great number of user details into consideration. Fortunately, the customizable elements of Salesforce allows companies to tailor the customer experience so that consumers receive the best experience possible.
Benefit # 4 – More Resources
To assist with customer management retention, Salesforce offers a variety of resources for companies to focus on providing top quality care to consumers.
Without Salesforce, many companies a very difficult time obtaining critical details about business operations and how to maximize customer satisfaction. Salesforce also allows individual to independently make plans for their accounts. In regards to satisfying consumers, there are three primary elements of Salesforce as shown in the following chart.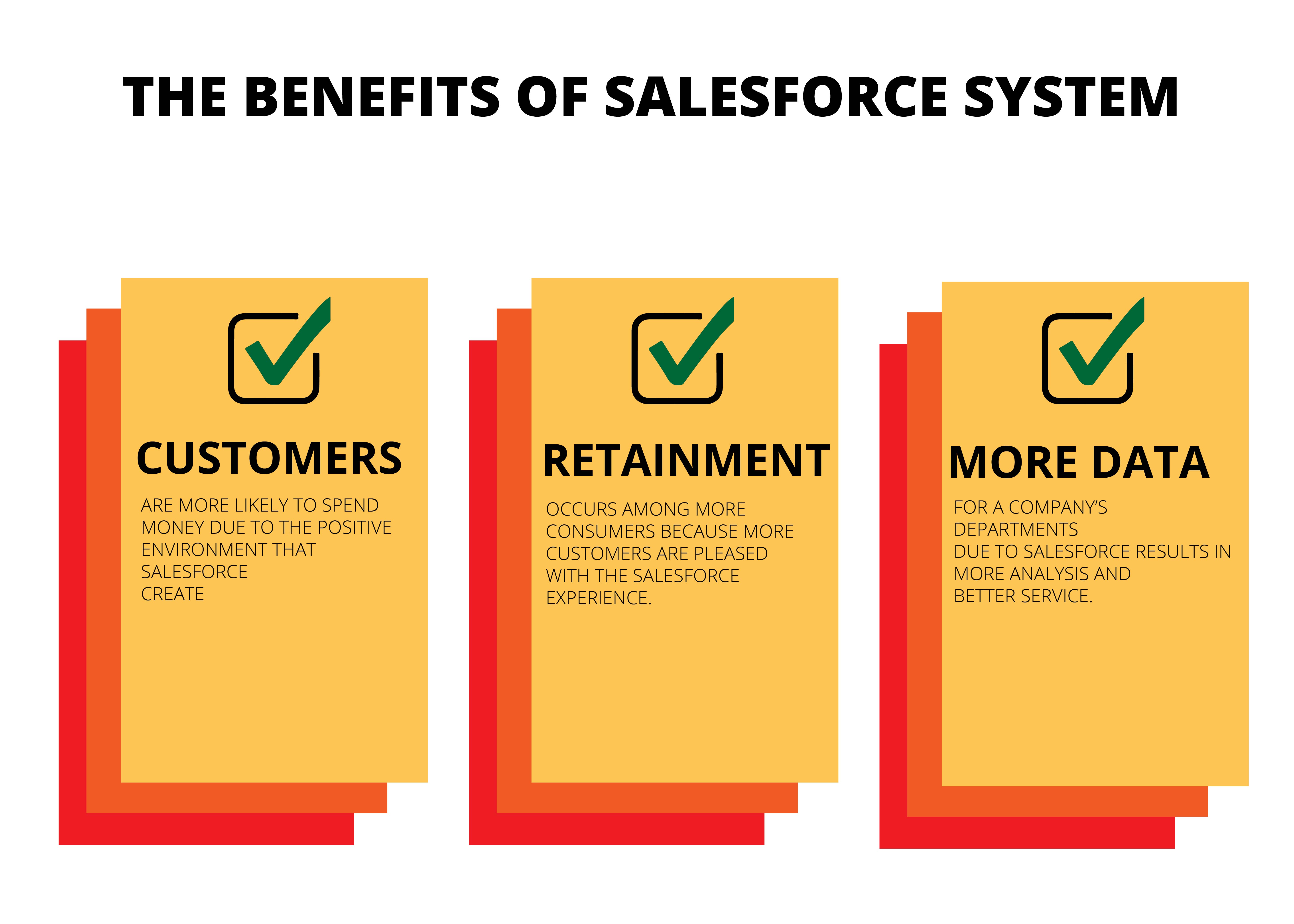 One of the largest benefits of Salesforce is that it allows employees to create reminders about approaching deadlines. These management options make it much easier for companies to manage employees and ultimately more consumers are able to reach their desired level of support and interactions.
Because Salesforce offers companies the ability to better personalize the customer experience and more successfully navigate many obstacles that are experienced by consumers, a larger number of companies are able to utilize these tools to provide consumers with seamless customer service. Over 75% of employees who use Salesforce report that the program provides them with a competitive edge over other similar software programs.
Benefit # 5 – Increased Understanding of the Field
The value of key data for understanding how consumers work and what they are interested in should not be underestimated. Without analyzing the important facts about what types of products interest consumers, companies are not certain about how to provide strong customer service.
Using Salesforce lets companies obtain an in depth understanding of the product that the company offers as well as how to handle various customer relation and sales related issues.
Even if a company is a leader in the field, Salesforce helps companies understand what consumers most want as well as how consumers would like this service or product delivered to them. Only in obtaining an in depth understanding of its consumers is a company able to provide strong services that approach seamlessness for its customers.
Offering Personalized But Focused Customer Service
No matter how strong the automated customer service that a company is able to provide a consumer, companies still need a service that is able to determine what makes consumers unique and tailor each encounter with that customer in the most compatible way possible. As a result, Salesforce plays an essential role in creating seamlessness at a company. Additionally, Salesforce places a vital role in the growth and development of many companies by helping the companies to increase in size as well as provide strong customer service to help companies focus on improving their business models.
Salesforce is a tool that is dedicated to the use of the consumer, but companies also grow by using the program. Because Salesforce helps companies gain a reputation as offering strong customer service, this reputation frequently companies to increase substantially in size.